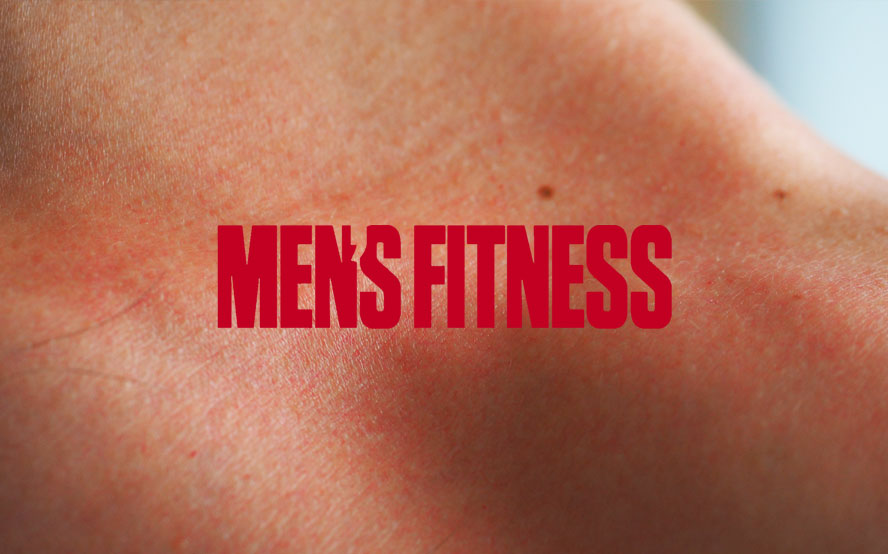 Posted on
September 25, 2017
by Adam Hurly for Men's Fitness
So a few hours in the sun has you looking less like a bronzed god and more like an overcooked crustacean? Here's how to repair your sunburned skin and reduce the pain fast.
Besides being A good excuse for an all-over aloe massage, having a sunburn is a really bad situation. You know the drill: It burns, it peels, and the only thing hiding your blushed embarrassment is lobster-red skin. Plus, with each subsequent burn, you significantly increase your odds of developing melanoma. In fact, getting more than five sunburns at any age can almost double your chances of developing skin cancer, according to the American Association for Cancer Research.
And yes: We all inevitably get burned, whether we fall asleep in the hammock or forget to reapply sunscreen after a dip in the pool. So while you heal from your latest burn (or in preparation for your next one…), we suggest you stock up on tough sunscreens and SPF-packed moisturizers. Then, minimize your recovery time (and agony) with these tips on properly treating and healing your burn, courtesy of Dr. Heather Rogers of Seattle's Modern Dermatology.
Step 1: Assess the burn
You're probably familiar with the nomenclature of first-, second-, and third-degree burns. (First degree is the least severe.) Like other burns, sunburns are classified by severity. Odds are your sunburn is a first-degree burn, but don't be so sure. Match your symptoms with the following—then act accordingly.
First-degree burn: "This only affects the epidermis—the first layer of skin," says Rogers. "Typically, it heals in four or five days without scarring, and is best treated with ointment to protect the skin while it heals.
Second-degree superficial burn: "This affects the epidermis and superficial layer of the dermis (the second layer, hence 'second degree')," says Rogers. "It often blisters, heals in 12-14 days, usually without scarring. It is best treated with ointment and bandages over raw skin."
Second-degree deep burn: "This is a burn on the epidermis and deep dermis," says Rogers. "It causes blistering and scarring, takes three to four weeks to heal, and may require surgery. You'll need antibiotics in addition to ointments and bandages."
Third-degree burn: "This affects the epidermis, dermis, and fat (all three layers, hence 'third degree')," she says. "It can affect muscle and even bone, often needs skin grafting, and can take months to heal." (You likely won't develop third-degree burns as a result of sun exposure.)
Step 2: Minimize your agony
If your burn only requires at-home treatments—typically the case for first- and second-degree superficial burns—then you'll want both topical and oral remedies at the ready. However, if your burn is more severe, go to the hospital immediately to minimize any permanent and severely painful effects.
Here's what you'll need at home:
Anti-inflammatory painkillers: "Ibuprofen will help minimize the swelling, redness, and pain," says Rogers.
Hypoallergenic ointment: Rogers recommends rubbing Vaseline or a hypoallergenic healing balm over the burn to shield and hydrate the skin and speed the recovery process.
Aloe vera: It's not entirely known whether aloe helps heal the skin after a burn. It does, however, calm pain on contact, and is believed to have antioxidant and antimicrobial properties. Aloe works as a soother because of its high water content: "Aloe is 99% water, so there is a cooling sensation as the gel evaporates, which feels good on hot skin," Rogers says. This is also the case for many "post-sun-tanning" topical gels.
Water: While water is the real ingredient at work in aloe, it's also important to drink plenty H2O after a burn. Rogers stresses the importance of staying hydrated; this ensures that skin cells regenerate faster.
Step 3: Skip the ointments that won't help
Avoid more common healing ointments like Neosporin and Polysporin, Rogers says. "These contain neomycin and ​​bacitracin, and have reported​ rates of​​ ​contact dermatitis (skin rash)​ as high as 34%. They are ineffective as antibiotics, because decades of use has led to widespread resistance."
She also advises against lanolin-based products, as found in ​​popular drugstore brand Aquaphor, because​​​ ​the incidence of allergy​​ is so high​.​ "​A​​ ​recent​ ​study of over 1,000 children ​found that many of them—​66% ​of kids ​with eczema, plus 29% of kids without—react​​​ to ​lanolin​​​ when patch-tested​.​​ ​​​You don't want to use this stuff on raw skin because more is absorbed, and the risk of allergy is increased."
Read Original Article