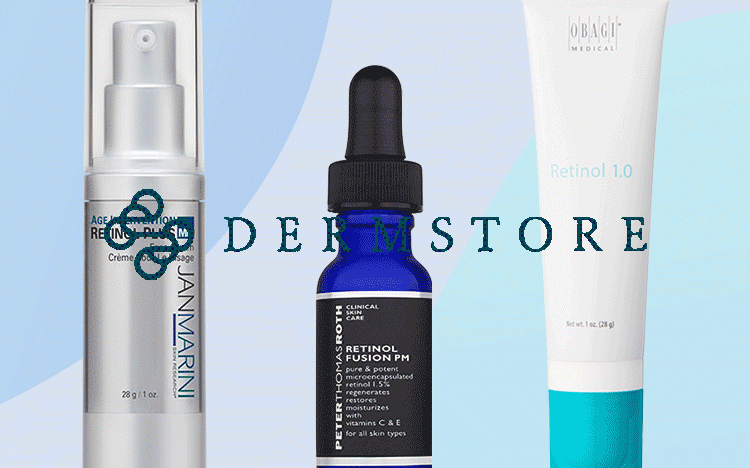 Posted on
January 7, 2019
Retinol is in just about every anti-aging skin care product on the shelves today. Not only is it one of the most researched skin care ingredients today, but it is also one of the most highly recommended by dermatologists everywhere. "I don't know a dermatologist who doesn't use retinol or tretinoin," confirms board-certified dermatologist, Heather Rogers. "We've all read the studies and we all use it. I used it on my face, neck, chest, arms and backs of hands most nights. It's good stuff, give it a try."
Still, despite its popularity, most people don't fully understand how it works and how to use it properly. To get the skinny on this widely talked about anti-aging ingredient, we asked Dr. Rogers.
What Is Retinol and What Does It Do?
Retinol, tretinoin, vitamin A—we've all heard these terms before, but while all three ingredients are connected in some way, those are not one and the same.
"Retinol is a weaker, over-the-counter version of tretinoin, which is a prescription vitamin A derivative," explains Dr. Rogers. "It is highly effective in reversing sun damage and signs of aging. Both retinol and prescription tretinoin have been shown to do great things for the skin, including treatment of acne, reversal of sun damage (photo-aging), improved skin smoothness and texture, improvement of skin discoloration, decreased fine lines, tightened pores and decreased inflammation associated with rosacea."
How to Pick the Best Retinol Product for You
According to Dr. Rogers, retinol comes in multiple strengths; the most common are 1%, 0.5%, .0.3% and 0.25%. If your product doesn't specify the percentage of retinol on the label, it usually means the concentration is weaker than .25%, which may not give you the full benefits of retinol. "Studies suggest you need to use at least 0.25% retinol or 0.025% tretinoin to be effective, so I recommend using a product that specifies the percentage."
When choosing a retinol product, Dr. Rogers says it's best to start with the lowest concentration before moving up. Another thing to consider is your skin type. "If you have thick or oily skin, try a higher-strength product. If you have thin or dry skin, start with the lower-strength option," she adds.
How to Apply Retinol for Best Results
When used correctly and consecutively, retinol has been shown to deliver results—brighter, smoother skin—in as little as four weeks. However, some people find retinol too harsh on their skin, so they discontinue the treatment before they even see visible results.
"There is a lot of concern about retinol/tretinoin being harsh or irritating to the skin. This is a misunderstanding," explains Dr. Rogers. "These products stimulate cell turnover, meaning that new cells push out old cells. It's a wonderful thing! However, if you use too much you will stimulate too much cell turnover, and your skin will get flaky and red."
So how should you use retinol to achieve the results you're after and without irritating your skin? The trick, according to Dr. Rogers, is to use less and to start slow. "Retinol is a treatment, not a cream. You do not need to cover your entire face with it. Use a pea-size amount or less and dab a touch on your forehead, cheeks and chin and then massage in. It will feel like half of your face did not get any. Not to worry, the cells talk to each other and the message is passed along. Follow the retinol with your favorite nighttime moisturizer."
When to Use Retinol
According to Dr. Rogers, retinol products are best used at night after washing and drying your face. If it's your first time using retinol, here's the best way to start:
First one to two weeks: Apply just two nights in the evenings each week.
Next two weeks: Apply it every 2nd night.
After 4 to 6 weeks of use: You should have a good idea of how your skin is tolerating it. If it's tolerating well, increase usage to nightly application.
After 8 to 12 weeks: Once skin's tolerance is built up after about 8 to 12 weeks, it is fairly easy to use nightly. Decrease usage any time you need to.
A Few Pro Tips to Prevent Irritation
If you have sensitive skin and are still worried about trying retinol, Dr. Rogers has a few more tips on how to go about using retinol:
If you are nervous about starting, try doing a skin patch test. Put a dab just underneath your jaw. If after 48 hours there is no reaction, try it on your face.
If your skin starts to get dry, irritated or flaky, stop using the retinol. Wait for your skin to return to normal and then try again with less product.
To prevent irritation and flaking in the most common areas, apply a gentle moisturizer or healing balm, like RESTORE Healing Balm, around your eyes, to the corners of your mouth and edge of nose before applying your retinol.
Best Retinol Creams and Serums on Dermstore
With Dr. Rogers' advice in mind, you're now ready to pick the right retinol product for you. To make it easier for you, we give you six of the fastest-selling retinol products on Dermstore.
1. SkinCeuticals Retinol 1.0 Maximum Strength Refining Night Cream
Formulated with the highest concentration of 1.0% pure retinol, this night cream is enhanced with the latest stabilization and delivery technologies to ensure maximum efficacy and stability. It's also formulated to minimize irritation commonly associated with the use of retinol cream. Its non-comedogenic formula makes it ideal for most skin types.
Also available in 0.3% and 0.5%.
2. SkinMedica Age Defense Retinol Complex 1.0
This treatment is also ideal for those who are already accustomed to using a retinol product on their skin. With 1% retinol, it works to visibly reduce wrinkles, age spots and acne scars, leaving you with a smoother, more rejuvenated complexion.
Also available in .25% and 0.5%.
Aside from 1% retinol, it also contains hydrating jojoba oil and shea butter to enhance skin elasticity, as well as vitamins C and E to help neutralize free radical damage.
Also available in 0.5%.
4. Replenix All-trans-Retinol Smoothing Serum 3X
In addition to retinol (0.3%), this serum also features 90% green tea polyphenols to neutralize free radical damage, diminish dark spots and protect skin from further damage.
5. Peter Thomas Roth Retinol Fusion PM
With 1.5% microencapsulated retinol, this product encourages the skin-renewal process by combining it with vitamins C and E.
6. First Aid Beauty FAB Skin Lab Retinol Serum 0.25% Pure Concentrate
This retinol cream combines 0.25% concentration of pure retinol with peptides and a signature blend containing hyaluronic acid, colloidal oatmeal, allantoin, aloe, ceramides and vitamins C and E to help protect and boost the overall health of mature skin.
Read Original Article