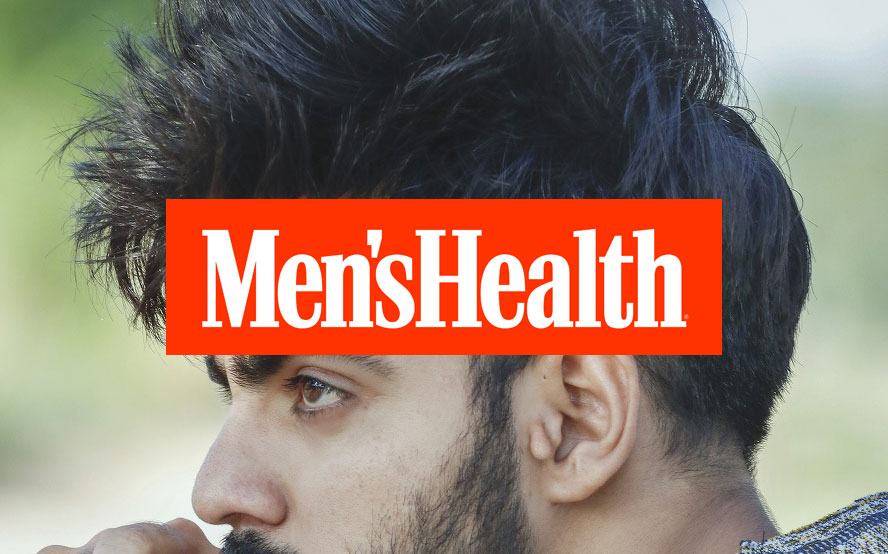 Posted on
November 5, 2017
by Adam Hurly for Men's Health
If you have dandruff, you're not the only guy struggling with it. It affects over half the world's population, says Dr. Carly Roman, M.D. and dermatologist at Modern Dermatology in Seattle.
Dr. Roman cites a combination of factors that cause or acerbate dandruff. These include active oil glands, yeast on the skin, and an exaggerated immune response to otherwise normal skin microbes. These are made worse if you have sensitive skin, and if you work out frequently, Dr. Roman warns of oil buildup that can also worsen existing conditions. But how does it progress?
"Dandruff in its mild form typically causes minimal symptoms," Dr. Roman says. "The most notable being the dry, white flakes of the scalp." The more severe classification of dandruff is known as seborrheic dermatitis. Dr. Roman diagnoses this from symptoms like itching, inflammation, or redness of the scalp. "The flaking of the scalp is usually thicker or occurs in a larger quantity," she says. "While mild dandruff usually only involves the scalp, seborrheic dermatitis may also affect the face, especially the oilier areas like the nose and eyebrows, as well as the chest and upper back." In other words: You need to stop it before it spreads.
WHAT ARE THE BEST PRODUCTS TO PREVENT AND TREAT DANDRUFF?
Dr. Roman tells her patients to use an anti-dandruff shampoo once a week to prevent flakes from forming—and these are also the same products that treat existing milder conditions (like the par-for-the-course flaking). The four she loves all work in slightly different ways, and can be alternated for more severe conditions that haven't yet turned into seborrheic dermatitis. They're also from brands you already know and recognize.
NEUTROGENA T/SAL SHAMPOO SCALP BUILDUP CONTROL
"This one contains salicylic acid that works by dissolving the flakes on the scalp so they don't end up on your shirt," Dr. Roman says.
$5.94, Buy It Here
SELSUN BLUE MEDICATED SHAMPOO
Selsun Blue's lineup of shampoos slows down skin turnover, Dr. Roman says. This leads to fewer flakes. Its medicated shampoo also helps alleviate severe cases of dandruff—those classified as sebborheic dermatitis.
$13.96, pack of 2, Buy It Here
HEAD AND SHOULDERS INSTANT RELIEF
Head and Shoulders' assortment also slows down the cellular turnover in the skin atop your head. The brand's Instant Relief Shampoo employs tea tree and peppermint oils to soothe itching instantly upon contact.
$7.82, Buy It Here
NEUTROGENA T/GEL THERAPEUTIC SHAMPOO EXTRA STRENGTH
Neutrogena has two dandruff fighters: Dr. Roman cites its T/Gel shampoo as something that dissolves scaling and calms any inflammation.
$7.58, Buy It Here
WHEN AND HOW TO USE THE SHAMPOOS
"Whenever you're flaking, these should be used consistently, each time you shower," Dr. Roman says. Or, use them once a week to prevent such conditions. To get the most mileage from each application, she says to let the shampoo sit on the scalp for a few minutes. This allows the active ingredients to properly penetrate the skin. Then, simply rinse.
"These shampoos should be thought of as a scalp treatment rather than a hair treatment," Dr. Roman says. Don't follow them with a standard shampoo, however. That can further dry out the skin and hair. Instead, use a standalone conditioner to restore moisture to the hair, and resume standard shampoos once the dandruff has subsided. After your skin has stopped flaking, you can also dial back on these products, employing them once a week like anyone else who is keeping the scaly skin at bay.
WHEN SHOULD SOMEONE SEE HIS DOCTOR FOR SEVERE CASES?
If you don't see improvement from these products, or if you are experiencing symptoms besides flaking (like itching or irritation), then Dr. Roman suggests visiting your dermatologist. She or he will start you on a high-strength treatment. She prescribes prescription-strength antifungal shampoos and steroid creams in this scenario, and recommends asking your own doctor about similar solutions.
AND DON'T FORGET TO CHOOSE THE RIGHT STYLING PRODUCTS
As for hair styling, Dr. Roman says that your regimen might also be the cause of flaking. The best way to prevent drying and flaking from styling products is to use lightweight, water-based products. These will also be the least straining on your hairs. Baxter of California has a solid lineup of such products including its Hard Water Pomade ($20.90, Buy It Here) for high-hold shine and definition.
It's also helpful to avoid a blow dryer when you are susceptible to dandruff. The added heat can dry out your skin and aggravate flaking. Instead, put a lightweight cream to use for medium-to-longer styles. Sachajuan's Volume Cream Slow Drying or Sculpting helps add volume as it dries, so it's like you used a blow dryer for added style and volume (to prevent it looking dull and lifeless), but you'll spare yourself the heat ($22.60, Buy It Here).
Read Original Article