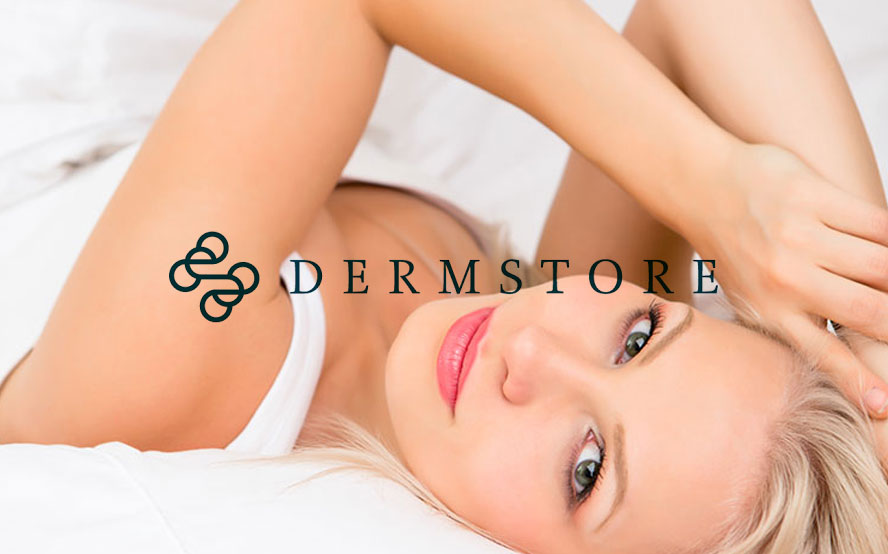 Posted on
November 5, 2017
by Dr. Heather Rogers for Dermstore
Some skin conditions may be easier to ignore than others, but it doesn't change the fact that they still put a significant dent on your quest for soft, smooth and healthy-looking skin. Take keratosis pilaris, for example. Commonly known as chicken skin or goose flesh, these tiny bumps seem harmless enough. Aside from making you feel wary about wearing arm-baring tops, they don't really cause any itchiness or discomfort, so it's no surprise that they don't rank high on your list of skin concerns. Ironically, despite the fact that it's so common, not many know much about what causes keratosis pilaris—or even how to address it.
Keratosis Pilaris Is More Common Than You Think
"Keratosis pilaris (KP) is a common and benign disorder of hair follicles in the skin," says Seattle-based dermatologist Heather Rogers, M.D. "It typically presents as rough 1 to 2 mm little bumps on your skin, particularly on the backs of arms but can also affect the buttocks, upper thighs and even cheeks. It's often described in association with other dry skin conditions like eczema."
According to Dr. Rogers, 50 to 80 percent of adolescents and 40 percent of adults have keratosis pilaris, and because it's inherited, about half of patients also have family members with the same skin condition. It's typically at its worse during puberty and improves with age, but as with most skin conditions, it can also be affected by the changing seasons. "Keratosis pilaris improves during summer months and worsens as the skin tends to dry out during the winter," she explains.
There's No Cure for Keratosis Pilaris, But Here's What You Can Do
As annoying as those pesky bumps are, Dr. Rogers says that there's not a whole lot you can do about it. "Keratosis pilaris is genetically determined, something that many of us will have for our entire lives," she explains. "Figuring how to keep things in check at home is the best long-term solution."
While there's currently no treatment that will absolutely get rid of KP, you can improve its appearance and symptoms with some TLC—and one of the best things you can do at home is to keep your skin moisturized all the time. "Moisturize your skin after shower or before bed with a thick, bland moisturizer," says Dr. Rogers. "To address roughness and texture changes, use a body wash and body cream with chemical exfoliators like glycolic acid three times a week." And although it might be tempting to do so, Dr. Rogers warns against scrubbing and picking those tiny bumps.
When it comes to natural treatment alternatives, raw coconut oil is a popular choice because of its hydrating and mild anti-inflammatory properties. However, since studies show that oil mixed with water (emulsions) hydrate the skin better than oil alone, Dr. Rogers suggests reaching for thick creams infused with nourishing oils instead. To treat redness, she usually prescribes topical steroid to temporarily ease the discoloration. "You cannot do this forever, but for special events, it will make things look nicer."
Ready to give your skin an extra dose of pampering? We've listed our top product picks to help you keep keratosis pilaris at bay!
1. Body Wash: Glytone Exfoliating Body Wash
To address skin roughness, Dr. Rogers suggests using a body wash with a chemical exfoliant, like this body wash from Glytone. Featuring AHAs and 8.8 percent glycolic acid, this dermatologically approved body wash contains gentle exfoliators that remove grime, debris and excess oil while leaving skin relaxed and revitalized. Definitely deserving of its five-star rating!
2. Body Scrub: DERMAdoctor KP Duty Dermatologist Formulated Body Scrub with Chemical + Physical Exfoliation
While aggressive scrubbing is a no-no if you have KP, exfoliating is key, and this body scrub—infused with gentle chemical and physical exfoliators—gives you the best of both worlds. Its fast-acting formula features glycolic and lactic acids to slough off dead skin cells and bind moisture and willow bark and green extracts to soothe and calm skin.
3. Body Lotion: NeoStrata Resurface Lotion Plus – 15 AHA
According to Dr. Rogers, because KP is associated with dry, sensitive skin, it's important to use mild moisturizers and AHA creams right after you shower. And if you're on the lookout for a lotion that does it all, look no further! This anti-aging face and body lotion is formulated for advanced AHA users and works best for those with mature, dry, oily or combination skin. It features 15 percent glycolic acid that removes dead skin cells, refines fine lines and wrinkles and improves hyperpigmentation due to sun damage. Best of all, its lightweight formula will keep your skin hydrated without that heavy and sticky feeling.
4. Treatment Pads – Glycolix Elite Treatment Pads 20%
Large pores, acne and keratosis pilaris are just some of the most common skin concerns that plague many of us, and finding the right treatment for each can be daunting. Luckily, this glycolic treatment pad is a multitasking cure-all: It gently exfoliates, moisturizes and removes excess oil and impurities while refining fine lines and large pores. Convenient and easy to use, it's formulated with witch hazel extract, vitamins A, C and E and CoQ10.
5. Device: Trophy Skin Microderm MD Diamond Peeling
Too busy to schedule a visit to your dermatologist? Don't fret! This professional microdermabrasion device allows you to treat a wide range of skin concerns—including discoloration, acne scars, wrinkles, large pores, sun damage and uneven texture—from the comfort of your own home! Its diamond-tipped exfoliating wand gently suctions and buffs away the skin's top layer, leaving you with a brighter, smoother and clearer complexion.
Read Original Article