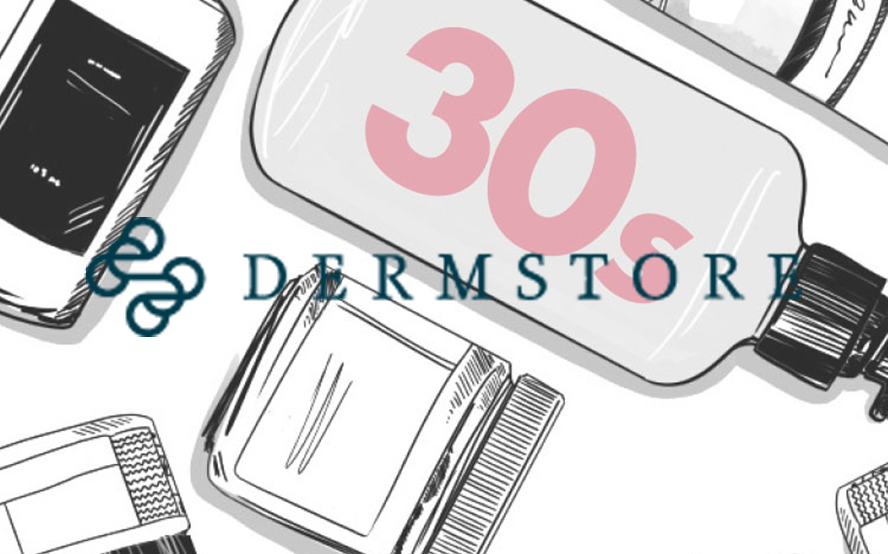 Still using some of the same skin care products you used in your 20s? You may want to reconsider. While the skin may experience similar problems—i.e. breakouts and oily skin—a lot changes in your 30s. In particular, your 30s are a time to get serious about anti-aging and start incorporating skin care essentials that target fine lines, wrinkles, dark spots and other premature signs of aging.
To find out the must-have skin care products for your 30s, we tapped Dr. Heather Rogers, top board-certified dermatologist and fellowship-trained dermatologic surgeon. Find out what she had to say, ahead.
1. A More Targeted Cleanser
Just like in your 20s, a daily cleanser in your 30s is a must. That said, many of us experience a change in our skin type and veer toward the combination side of the spectrum. To combat this, Dr. Rogers suggests switching to a cleanser formulated with combination skin types in mind.
Try: iS Clinical Cleansing Complex
Looking for a must-have cleanser for your 30s? Look no further than the iS Clinical Cleansing Complex. Formulated for women of all ages who experience breakouts and dry skin, the Cleansing Complex works to smooth out the complexion, reduce pore-clogging oil, kickstart cellular turnover and even reduce the look of large pores. In addition to cleansing, it can also protect the skin from skin-aging free radicals.
2. Antioxidant Serum 
As we start to age, you'll notice that our bodies take a bit longer to recuperate. Same goes for our skin. "It can start to take longer for the skin cells to replace themselves and correct the daily damage done to it," she adds. "So, in addition to protecting your skin with sunscreen and moisturizer, it's time to add in the power of antioxidants as another layer of protection."
Try: SkinMedica Vitamin C + E Complex
Two antioxidants to keep on your radar? Vitamins C and E. "Multiple studies show that antioxidant serums with vitamins C and E can protect your skin against photo-aging and lighten pigment," says Dr. Rogers. "They work because these vitamins function as antioxidants, neutralizing the damaging free radicals created by the sun and pollution before they activate the breakdown of collagen," she adds.
3. Retinol
In addition to an antioxidant treatment, Dr. Rogers suggests incorporating a retinol product into your routine in your 30s. Also known as vitamin A, retinol is an anti-aging powerhouse that can reduce blemishes, boost cell regeneration and target premature signs of aging like fine lines, wrinkles and more.
Try: SkinCeuticals Retinol 0.5 Refining Night Cream
For a retinol skin care product to add to your night time routine, Dr. Rogers recommends SkinCeuticals Retinol 0.5 Refining Night Cream. The intensive night cream works to prevent skin damage, regenerate the skin, promote collagen production, minimize the look of large pores and target blemishes for clearer, more youthful-looking skin.
4. Moisturizers That Do More Than Just Hydrate
In your 30s—and any decade, for that matter—moisturizer is a must. Whether you have dry skin or combination skin, topping your skin care routine off with a moisturizer can promote softer, smoother, more supple-looking skin. The trick is to find one that hydrates as it addresses your skin concern, whether that's adult acne, blackheads, emerging fine lines or dullness.
Try: Sunday Riley U.F.O Ultra-Clarifying Face Oil 
If you're looking for a multipurpose moisturizer, Dr. Rogers suggests a fast-absorbing dry oil like Sunday Riley U.F.O. Ultra-Clarifying Face Oil. Formulated with a blend of natural botanicals like tea tree and chamomile oil, as well as licorice root, hexylresorcinol and 1.5% salicylic acid, the clarifying face oil works to target acne, blackheads and blemishes and combat fine lines, wrinkles and other premature signs of aging. The result? Skin that appears clearer and more youthful than before.
5. Sunscreen
As many women in their 30s are fighting melasma and need all the sun protection they can get, Dr. Rogers suggest a sunscreen formulated with zinc. "Zinc is able to protect your skin from both the UVB rays that cause sunburns and the longer UVA rays that can come through windows and are more responsible for wrinkles and brown spots."
Try: MDSolarSciences MD Creme Mineral Beauty Balm SPF 50
For a daily sunscreen in your 30s, Dr. Rogers suggests MDSolarSciences MD Creme Mineral Beauty Balm SPF 50. Formulated with natural mineral UV filters and anti-aging antioxidants—including vitamins C and E—the lightweight formula is recommended by the Skin Cancer Foundation for daily use and can conceal imperfections, control shine and mattify the complexion.
6. Masks and Peels
At this age, as most of us move up the corporate ladder and experience life-altering moments like childbirth, our skin becomes faced with different challenges, and you'll see this in the form of a sallow complexion, uneven skin tone, increased sensitivity, dryness and enlarged pores. "After 15 years of hormones pushing out oil onto our skin, our pores have widened and become a collecting place of dead skin, causing blackheads or open comedones," she adds. To combat this, Dr. Rogers suggests incorporating detoxifying face masks or peels into your weekly routine.
7. Optional: Eye Cream
Since the first signs of age appear around the eye, Dr. Rogers suggests using a nourishing eye cream "to ensure this thin skin gets the hydration it needs." In addition to nourishing the eye contour, eye cream can also help reduce the look of premature signs of eye aging, like fine lines, wrinkles and crow's-feet.
Try: EltaMD Renew Eye Gel Daily Eye Therapy
For an eye cream in your 30s, Dr. Rogers suggests trying the EltaMD Renew Eye Gel Daily Eye Therapy. Enriched with moisturizing superstar hyaluronic acid, the anti-aging eye cream works to give the eye contour a burst of hydration while softening the skin and diminishing the look of lines and wrinkles. In addition, vitamin B3, antioxidants and anti-aging peptides target puffiness and dark circles by improving circulation, stimulating collagen and protecting the delicate under-eye skin from falling victim to free-radical damage.
8. Optional: Acne Treatment
Think you can say goodbye to acne treatments in your 30s? Unfortunately not for some us. "As our pattern of acne often becomes more hormonal, getting pimples on the lower half of the face around our period," says Dr. Rogers. That said, since your skin can be a lot drier than in your 20s, Dr. Rogers suggests using a treatment that has a low percentage of benzoyl peroxide and won't dry the skin.
Read Original Article