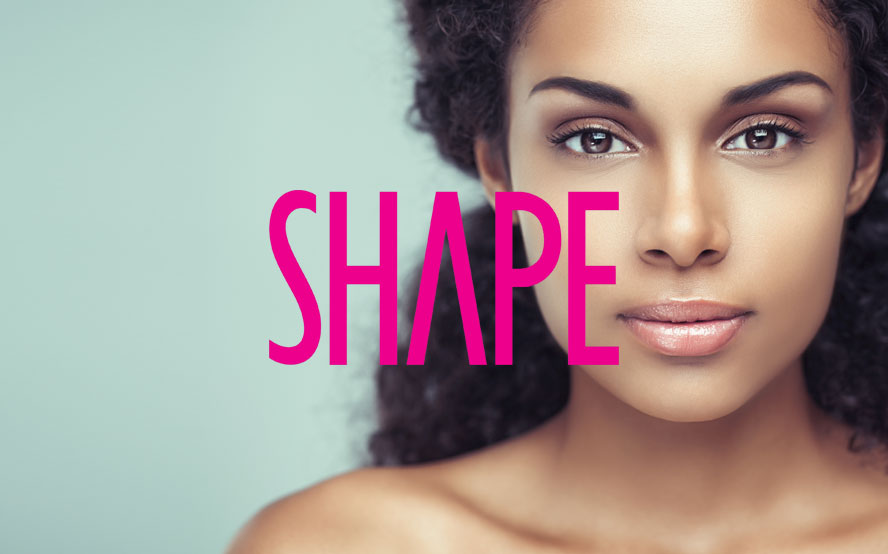 Posted on
September 25, 2017
by Melanie Rud Chadwick for Shape
Face constantly feeling stripped and parched? Here's how to add back mega moisture—and deal with all of your other complexion concerns.
Smooth Fine Lines and Wrinkles
While there's no doubt that they're highly effective, retinoids can leave your already dehydrated skin even drier, so pass on products that use them in favor of ones with hyaluronic acid. It attracts and retains moisture in your skin (it can hold up to 1,000 times its own weight in water) and is the same ingredient used in injectable fillers, says Emmy Graber, M.D., president of the Dermatology Institute of Boston. "It instantly plumps up fine lines and wrinkles," she explains.
Find it in the new SkinMedica HA5 Rejuvenating Hydrator ($178; skinmedica.com). You can also seek out anti-agers with stem cells or growth factors, which boost collagen production for smoother skin, adds New York-based dermatologist Kavita Mariwalla, M.D. Try NeoCutis Bio Serum Intensive Treatment ($235; dermstore.com).
Banish Breakouts
As with retinoids, many of the most common blemish-busters can dry out your skin even further, so be cautious when addressing breakouts. Mariwalla advises asking your dermatologist about a prescription-strength topical antibiotic like Aczone (these aren't drying and typically come in a creamy base, she explains).
If you prefer an OTC option, look for a spot treatment with no more than 2.5% benzoyl peroxide, says Joshua Zeichner, M.D., assistant professor of dermatology at Mount Sinai Hospital in New York City (a stronger concentration can be too drying, he cautions). One to try: Neutrogena On-the-Spot Acne Treatment ($7; walmart.com).
In either case, be sure to keep up with your daily moisturizing routine. "Lots of people make the mistake of skipping moisturizer once they start to break out, and then they end up with both pimples and dry, rashy-looking patches," says Mariwalla.
Keep Skin Healthy and Hydrated
When it seems like no amount of face cream is working, try Mariwalla's quick trick for hydrating parched skin: Run the water in your bathroom sink as hot as it will go, then bend over the sink and cover your head with a towel so that the steam hits your skin. Do so for a few minutes before removing the towel (your face will look super sweaty), then immediately slather on a thick coat of a hydrating ointment; Mariwalla recommends the petroleum-free Dr. Rogers Restore ($30; doctorrogers.com). "The steam leaves a layer of moisture on your skin and the ointment locks it in," she explains. "Plus, steaming your skin also ensures the product won't sting when you apply it, a common complaint for many people whose skin is extremely dry and chapped."
If you're looking for a long-term solution, the thicker and creamier the moisturizer, the better. That means heavy-duty creams and balms are your best bet, especially those that contain occlusive ingredients, like dimethicone, that seal moisture into the skin, and/or hydrating glycerin, says Zeichner. Try: Kiehl's Ultra Facial Deep Moisture Balm ($56; kiehls.com).
Go for a Glow
Regular exfoliation is especially important for dry skin—patches of dead, flaky cells not only look less-than-pretty, they also prevent moisturizer from penetrating in to and hydrating skin. An easy way to get your daily dose of exfoliation (without the risk of overdoing it), is to use an electric, oscillating face brush, suggests Mariwalla. "It makes for a more thorough cleanse, but also gently buffs off dead skin cells. By using it every day, you're preventing the build-up of dry skin." For an added dose of hydration, she suggests using the brush with a creamy, non-soap cleanser. Our perfect duo: Clarisonic Mia Fit ($189; clarisonic.com) and Yes To Coconut Ultra Hydrating Melting Cleanser ($10; ulta.com).
Fade Spots
Antioxidants are well-known in the skincare world for their preventative benefits, helping to thwart free-radical damage caused by sun and pollution, but they're also effective at improving skin tone, Zeichner points out. There's no shortage of various antioxidants out there, but it's best to use a product that contains more than one kind, since the effects of many are often synergistic. He especially likes the combo of Vitamin C and Vitamin E, as found in Skinceuticals C E Ferulic ($162; skinceuticals.com). The latter is especially ideal for dry skin: "Vitamin E is a heavier and richer antioxidant that can also help hydrate skin," he adds. (You should also check out these 20 Sun Products to Help Protect Your Skin.)
Read Original Article