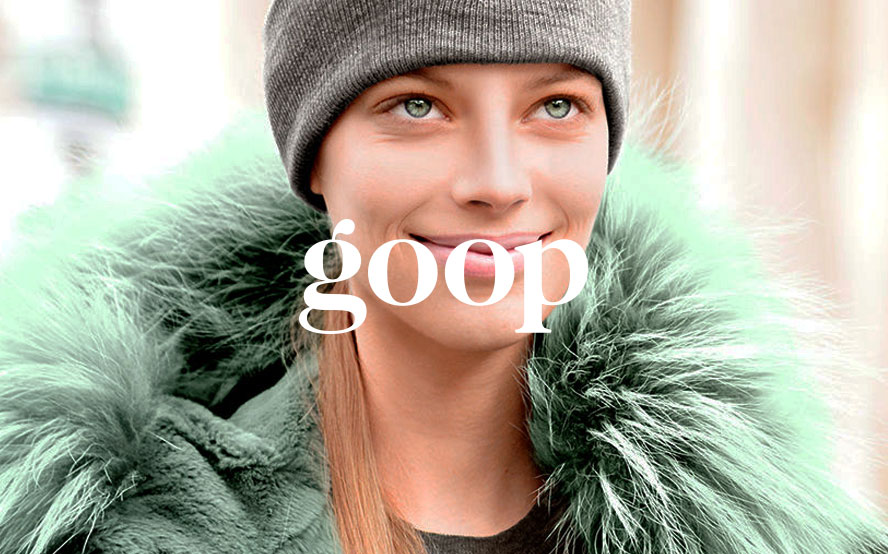 Posted on
September 25, 2017
by goop
It's to be expected—not a source of panic—that skin freaks out over weather changes. A measured approach is typically the best way to minimize skin's negative reactions to seasonal transitions: gradually ramp up the amount of moisture you give your skin, both in terms of the moisture content of the formulas you use and the frequency with which you apply them. The infusion of rich, cushy hydration that you get with winter-strength skin treatments is something to take pleasure in—it's such a luxury—and going slowly, building in extra moisture at every step in your routine, is more effective than simply slapping on the heaviest cream you can find.
Your skin is decidedly more vulnerable to all sorts of damage when the air outside is cold and dry, as winter tends to be in most parts of the country. When it's dry, the lipid barrier that protects your skin—not just from moisture loss, but from incoming trouble like pathogens that can cause infection—is more easily compromised. That barrier being compromised can cause itchiness, peeling, and even lesions on skin; beyond those serious problems, wrinkles and roughness are more decidedly noticeable without moisture to plump up skin. Irritation in any form is a major cause of skin aging, and it exacerbates everything from eczema to acne.
Conventional dry-skin moisturizers most often use petroleum to support the lipid barrier (which is why conventional-moisturizer ingredient lists can look very similar, from the cheapest cream to the most expensive). Even those that don't use petroleum often add everything from propylene glycol (the chemical equivalent of antifreeze) and silicones for texture, to fragrance, even in "unscented" versions made with masking fragrances that are every bit as irritating as perfumey-smelling ones.
Clean, nontoxic formulas rely on non-petroleum emollients like shea and coconut butters, botanical waxes like rose, and hydrating oils of all ilks, from sunflower or pumpkinseed oils to olive, jojoba, and avocado. Essential oils within a given formula may cause issues if you're allergic, so always insist on looking at the full ingredient list before you buy.
The other thing to keep in mind is the importance of applying more often: Drench your skin in whatever form of moisture you prefer, whenever you think of it. Pat oil or cream on over makeup; keep some in your desk drawer or makeup bag. Layer an oil under a cream, increase your 10-minutes-with-a-face-mask to two or three times a week, and use a humidifier in your bedroom (an easy cheat if you don't have one is to just fill a bowl with water and leave it out in your room overnight not as effective as a humidifier but definitely better than nothing). All of this should feel good, with the side-effect of making you look good as well. Healthy skin is smooth, glowy, and plumped full of moisture, so you won't need so much makeup. (Definitely don't forget SPF, however: Sun damage still occurs in winter—sometimes even worse!—and as this Ask Jean explains, it affects the protective lipid layer at least as powerfully as the driest day.)
This deeply luxurious, miracle-working pale-blue balm genuinely (and immediately) transforms irritated, sensitive, or delicate skin, and it feels incredible, no matter what your complexion. Intensely moisturizing, it melts into skin on contact and calms, nourishes, and softens with anti-inflammatory concoction of blue tansy, botanicals, and oils.
Rich and just deluxe, deluxe, deluxe, this is the face oil that put face oils on the map. It treats wrinkles and dry skin, seriously improves elasticity, and leaves skin luminous.
Made by hand to work specifically with the changing temperatures to nourish skin as the seasons transition, this miracle worker deeply hydrates, decongests and detoxes, brightens and smooths the signs of aging, and protects and rejuvenates skin.
Winner of Allure's prestigious Best of Beauty Award, our Luminous Melting Cleanser sinks luxuriously into skin to remove dirt and makeup, leaving it incredibly moisturized, soft, and glowing.
Smooth this luxe, incredibly effective cleanser on, splash with water, and it will then sweep away every trace of makeup, leaving your skin smooth and incredibly soft.
The Replenishing Night Cream is a luxurious, highly active night cream that works to plump, brighten, and firm skin overnight. The nourishing formula visibly improves skin texture, reduces the appearance of wrinkles, and increases luminosity for a noticeable, healthy glow.
You think of clay as drying, but this soothing rosewater/pink-clay concoction is ultra-moisturizing. It feels incredible going on, and your skin is left dewy, firm, and totally hydrated. Somehow detoxifying and totally moisturizing all at once—this is, like her and her spa, heaven.
Supremely moisturizing, this cushy, citrusy balm conditions lips like nothing else—and it's an amazing fix for split ends, flyaways, brows, and even beards, plus cuticles and dry spots of any sort.
London-based Connock infuses its 100% natural lotions, oils, and soaps with Kukui oil–used by Hawaiian women to heal, moisturize, and beautify for centuries–sourced from a tiny farm on Oahu.
A totally clean, dermatologist-created, miracle version of the most-petroleum antibacterial ointments you usually use on cuts—truly heal-it-all ointment.
Packed with every beyond organic (aka biodynamic) oil under the sun, this green tube is brilliant for face, hands, body—it feels amazing, smells incredible, and moisturizes like crazy.
Read Original Article