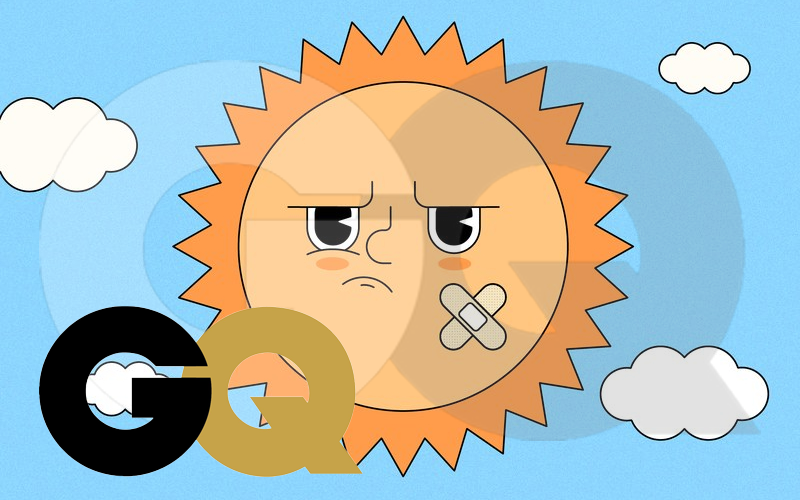 Posted on
September 13, 2018
We asked a real live doctor.
Here's a safe bet: A few hours into July 5th you're going to be wondering how to heal a sunburn as fast as possible.
It goes without saying that some SPF could have saved your hide, but we're past that point now. In this moment, all you want is to recover from the crispy redness with as little pain as possible.
That's where your high level skincare products come in. And where the expertise of dermatologist James Collyer, MD comes in. He's one of the skincare experts at Modern Dermatology in Seattle, and has helped far too many patients recover from sunburn. Here are his suggestions for the best types of products you need to rebound quickly, smartly, and comfortably.
(And once you're on the other side of this healing process, you might want to check out the best anti agers too, since all that UV exposure can lead to wrinkles, fine lines, and dark spots.)
---
An aloe-packed moisturizer: Aloe is a key ingredient in any guide on how to heal a sunburn fast. Later in this roundup, you'll see Collyer recommend an aloe post-burn recovery gel. That's different from this tip: "After the pain subsides and you're back to your daily regimen (while the burn heals), it's important to keep using an aloe-based moisturizer," says Collyer. "Especially since continued sun exposure, even on brief lunch breaks, will continue to agonize the skin. Aloe will minimize this pain, while the moisturizer itself preserves the skin's hydration." (As a bonus, Stubble & Stache's also helps restore moisture for the beard, thanks to a soothing blend of oils along with chamomile, green tea, and the aloe.) Also, moisturize often. Keep that area doubly covered until it's re-covered!
An oil-free eye cream: You know how lots of products are good for the entire body but advise you to avoid the eye area? That's because the skin there is "so much thinner, sensitive, and more susceptible to injury", says Collyer. It's important to boost the eyes' recovery from a burn with a lightweight, gently-formulated, oil-free cream or gel that soothes agony, doesn't worsen any redness, and shields the delicate skin from toxins and further suffering. COOLA's oil-free eye gel uses rose flower water, and extracts of black currant, rye seed, and linseed, to firm and soothe the eyes while undoing the sun's damage.
High SPF + zinc oxide coverage: "You need a zinc-based (>7%), high SPF sunscreen until that burn recovers," Collyer says. "Avoid the sun at all costs, but even when you're walking to the car or on your way to lunch, you should shield the burn from more UV exposure." (Plus, it's a good habit for when the skin recovers, even in the winter.) Collyer frequently recommends PCA's Weightless SPF 45 to his patients.
Petroleum-free balm: "A petroleum-free balm will help resuscitate dry, peeling patches of skin, or sunburned and cracked lips," says Collyer. Petroleum itself can seal in moisture, but it doesn't allow the pores to breathe, so you want a balm that protects the skin but also nurses it back to health. Doctor Rogers RESTORE is the perfect substitute for that old tub of Vaseline you still have in the cabinet.
Aloe vera body lotion or gel: Aloe on sunburns is like putting out a fire: "Immediately after a burn, you need a highly-concentrated, cooling aloe vera product to soothe the pain," Collyer says. (As opposed to having it as an ingredient in your recovery moisturizer.) When gels have a high percentage of aloe (like JASON's 98 percent aloe product), they're often good for your face, too, and they help restore moisture to the parched or sunburned area.
Milk bath powder: "It's best to avoid a shower in the days after a burn, since the water pressure might be too painful. And in the bath, you want to use gentle soaps, and avoid abrasive items like scrubs, washcloths, and loofahs," says Collyer. Soothing bath oils and milk bath powders with few ingredients can soothe the skin as it recovers, so consider this your regimen if and when any severe burns have gone away, and while the skin repairs itself. Herbivore Botanicals' milk bath powder is a great minimalist approach to a milk bath, and it should soothe any mild strain. Don't take long baths either, warns Collyer, because this can actually end up dehydrating the burn if you let the bath rinse away all your skin's naturally moisturizing oils.
Aloe shampoo: "If you burn your scalp and experience peeling, it's a lot like treating the rest of your skin," says Collyer. Get a shampoo with aloe in it. One that targets dandruff will also help to reduce any dryness or flaking that lingers after the burn has healed. Selsun Blue's aloe + dandruff shampoo is an obvious winner in this category, and it also helps restore moisture to your sun-parched hair.
Read Original Article