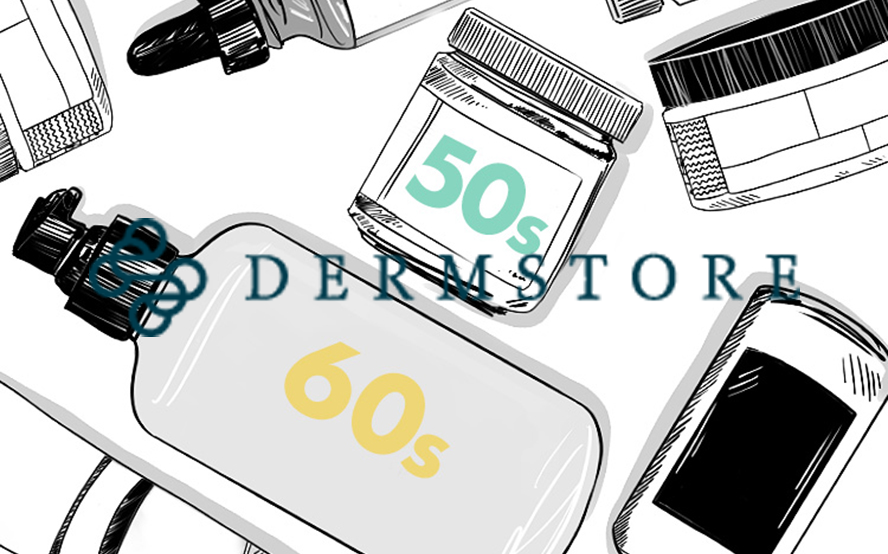 With each decade in our life, we start to experience significant change in our skin and beauty—and for women over 50 and 60, these changes are going to be challenging. Lines and wrinkles become more noticeable as our skin becomes drier, thinner and more sensitive. Skin might start to look crepey and loose as it begins to lose collagen and elastin. And years of unprotected sun exposure will haunt us in the form of dark spots and uneven skin tone.
It sounds hopeless, we know. Does our skin even stand a chance against the rapid decline in hormones and drastic changes our bodies go through in our 50s and 60s? The answer is yes. At this point in your skin care journey, the focus should be in maintaining your skin health, and making sure your skin has everything it needs to protect and defend itself against further damage.
Up ahead, we tap Dr. Heather Rogers, board-certified dermatologist and fellowship-trained dermatologic surgeon, to find out the must-have skin care products for your 50s , 60s and beyond.
1. Exfoliating Cleanser
No matter your age, a cleanser is always the first step in your skin care routine. That said, as we age, "Our body's ability to heal itself continues to wane with skin turnover slowing down to over 60 days on our face," says Dr. Rogers. To combat this, Dr. Rogers suggests using "a gentle chemical exfoliating cleanser with glycolic acid to remove some of the dry skin that builds up."
Try: SkinMedica AHA/BHA Exfoliating Cleanser
For a daily cleanser in your 50s, Dr. Rogers suggests SkinMedica AHA/BHA Exfoliating Cleanser. Formulated with a powerful combination of alpha and beta hydroxy acids that work to remove dry skin buildup and impurities, the daily cleanser can help diminish fine lines, brighten the look of the complexion and reduce hyperpigmentation with botanical extracts of bilberry and licorice.
2. Serum With Age-Delaying Ingredients
While there can be downsides to aging, there are also upsides. "The good news is, the penetration of topical ingredients is improved as our skin thins, so active proteins like growth factor and peptides can be more effective in stimulating corrective pathways in the skin that have slowed with age." In addition, Dr. Rogers suggests keeping an antioxidant serum in your daily routine, as the skin can become more prone to damage in this decade in life and beyond.
Try: SkinMedica TNS Essential Serum
For an antioxidant-rich facial serum, Dr. Rogers recommends SkinMedica TNS Essential Serum. "It has antioxidants to protect from the sun and pollution. And, it has human-derived growth factors proven to stimulate skin repair and collagen production."
3. Retinol With a Lower Concentration
Another product to continue using in your 50s? Retinol. However, Dr. Rogers warns against using stronger formulas in your 50s and beyond. "Because our skin is thinner, it will absorb ingredients more easily that can irritate the skin," says Dr. Rogers. "You may need to cut back on your retinol or switch to a more gentle antioxidant," she adds. For this decade, Dr. Rogers suggests decreasing the strength from 0.5 to 0.25.
Try: SkinMedica Age Defense Retinol Complex .25
Looking for the best retinol for your 50s? Dr. Rogers suggests SkinMedica Age Defense Retinol Complex. Formulated with .25% retinol and magnolia-bark extract, the anti-aging skin care product works to rejuvenate the skin's texture and tone, fight signs of aging, soothes inflammation and more.
4. Rich Face Cream or Moisturizer
In our 50s and 60s, our skin not only starts to become thinner, but more dry, too. "Skin continues to thin, making it dry, more sensitive and easily damaged," says Dr. Rogers. With that in mind, Dr. Rogers says to turn the volume up on moisture, as face cream can act as a barrier to protect the skin. "Look for products made with oils like jojoba or castor seed in their protective and emollient qualities, and humectants like glycerin and hyaluronic acid that can pull water back to your skin," says Dr. Rogers. "The thicker, the better," she adds.
Try: RESTORE Healing Balm
Dr. Rogers suggests switching to a heavier face cream or mixing your current face cream with RESTORE Healing Balm. You can also use the balm straight on your lips and eyes before bed "to increase hydration and protection while you sleep," says Dr. Rogers.
5. Eye Cream
Another area to focus on in your 50s? Your eyes. Because the skin starts to appear more dry and crepey, it is important to keep the skin around the eye contour as hydrated as possible, starting with an eye cream.
Try: NeoCutis Lumiere Riche Bio-Restorative Eye Balm
For an eye cream that can nourish the eye contour and help keep signs of aging at bay, Dr. Rogers suggests NeoCutis Lumiere Riche Bio-Restorative Eye Balm. Formulated with caffeine, wild yam extract and other soothing ingredients, the anti-aging eye salve can reduce the look of puffiness, improve firmness, help to accelerate cellular repair and protect against skin damage.
6. Sunscreen With Age-Delaying Ingredients
Like cleanser and moisturizer, sunscreen is a staple at any age. That said, with the threat of sun damage and skin cancer in your 50s, there's no time like the present to get serious about sunscreen.
Try: Dermalogica AGE Smart Dynamic Skin Recovery SPF 50 
If you're looking for a sunscreen for this age, Dermalogica AGE Smart Dynamic Skin Recovery SPF 50 is a good choice. Aside from broad-spectrum sun protection, this sunscreen also offers anti-aging benefits.
7. Gentle Chemical Exfoliating Creams
On top your cleanser, you may want to consider using a gentle chemical exfoliant once or twice a week, whether that's in the form of cream, mask or peel. "The slower turnover of the skin may require adding in a gentle chemical exfoliant to get a top layer of dead skin off," says Dr. Rogers. In addition, exfoliating the skin can help anti-aging products better penetrate the skin.
Try: NeoStrata Resurface High Potency Cream – 20 Bionic/AHA 
For a gentle—yet, effective—facial exfoliant, Dr. Rogers suggestsNeoStrata Resurface High Potency Cream – 20 Bionic/AHA. Formulated with antioxidant-rich lactobionic acid and vitamin E, as well as 18% glycolic acid, the anti-aging facial exfoliant works to chemically remove dead skin cells, fortify the complexion, replenish moisture, improve collagen production and nourish and protect the complexion.
8. Eyelash and Brow Conditioner
Another must-try product for your 50s? Eyelash and brow conditioner. As we age, "hair growth—including, eyelashes and eyebrows—begins to slow down," says Dr. Rogers. So, adding a specific product that can help with this repercussion can promote longer, fuller, more youthful-looking eyelashes and brows.
Try: Revitalash V'Lumine Lash Serum
For eyelash conditioner, Dr. Rogers suggests Revitalash V'Lumine Lash Serum. Rich in nutrients like sugar beet betaine, ginger, lavender, aloe and biotin, the lash-enhancing serum works to fortify lashes and improve the look of elasticity and shine. In addition, it can strengthen the hair and give lashes more volume than before.
Read Original Article