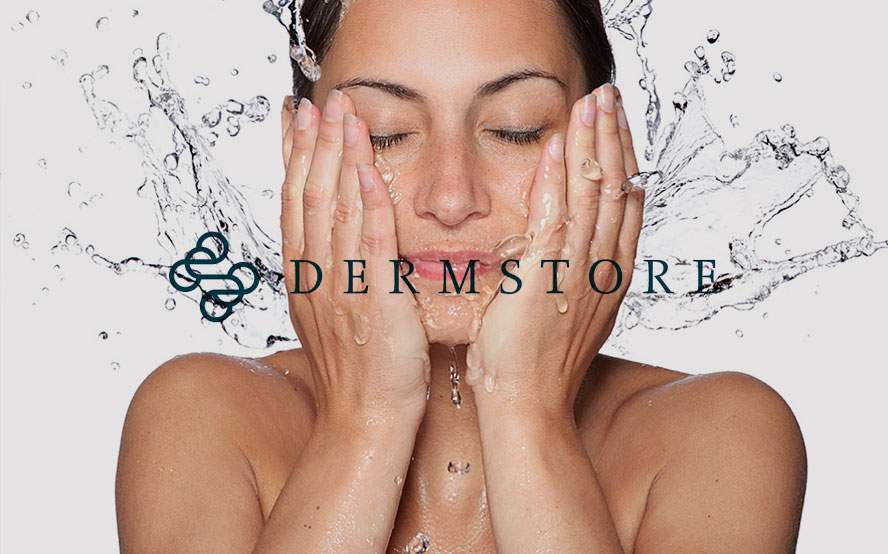 Posted on
September 25, 2017
by Dermstore editors
You wake up in the morning ready to take on the world, but after you wash your face, your skin feels tight, stretched and rough. This may be a tell-tale sign that you have dry skin.
"Dry skin has less oil which protects the skin from loss of water. It would look crêpe-like, ashy and feel tight after washing," says board-certified dermatologist Heather Rogers, M.D., of Seattle-based Modern Dermatology. In choosing the correct cleanser, Dr. Rogers suggests reaching for cream cleansers with humectants like glycerin. Further, she says, "Cleansers with lower-strength AHAs like glycolic acid can gently remove dead skin and allow your moisturizer to penetrate better." To achieve best results, she advises "washing face with warm water morning and night and applying zinc-based sunscreen during the day."
While there is a misconception that those with dry skin should not exfoliate, board-certified doctor in aesthetic medicine, Yelena Yeretsky, also founder and medical director of Clinique YFT, recommends "exfoliating one to two times a week and applying a moisturizing cream quickly after. Exfoliating removes impurities and allows the penetration of hydration for fresh new skin to be revealed."
Ready to quench your thirsty skin? Let us help! We made a list of the best-reviewed cleansers for dry skin and the reasons users swear by them!
1. Dermstore Bestseller: DHC Deep Cleansing Oil
"This is a dream cleanser, gentle on skin but tough on makeup. Don't leave home without this," says one user of this Tokyo-born cult product. This cleansing oil is infused with olive oil and vitamin E to soften and hydrate skin and has a water-soluble formula for easy rinsing without a greasy residue.
2. For that Famous Laszlo Glow: Erno Laszlo Hydra-Therapy Cleansing Oil
A favorite among some of Hollywood's elite, Erno Laszlo begins its famous "Laszlo Glow" cleansing ritual with this nourishing cleansing oil. The unique formulation of rosemary extract and vitamin B protects your skin from harsh environmental elements and keeps it hydrated longer. "It leaves skin soft, glowing and clean," a user shares. The avocado oil in the cleanser provides collagen support and also works as a natural sunscreen.
3. Great for Dry and Sensitive Skin: PCA Skin Creamy Cleanser
"The holy grail of cleansers," says one reviewer. "I have rosacea and this cleanser makes my skin look almost like I don't even have it." Thanks to aloe vera and sunflower oil, which is known to be a good source of vitamin E, this creamy cleanser provides a generous amount of emollients that help skin retain moisture.
4. Also Works on Dark Spots: Nia 24 Gentle Cleansing Cream
This gentle cleansing product contains evening primrose that helps brighten the skin. "I feel like my facial scars are much improved," says one reviewer, while another claims that with religious application, "it seems to be fading my brown spots a little more each day." Nia 24's cutting-edge Pro-Niacin molecule helps deliver niacin deeper in the skin, making it look younger and smoother.
5. For Dry Skin Prone to Redness: Avene Antirougeurs Anti-Redness Dermo-Cleansing Fluid
Infused with Avene's thermal spring water to keep skin soft and citrus extract to increase skin's elasticity, users claim that this cleanser works even on freshly treated skin. "I have had laser treatment and used many anti-redness creams but none worked. This has done the best job yet," claims one reviewer. Another says, "I feel like I just gave myself a spa treatment."
6. If You're Into Natural Products: Eminence Coconut Milk Cleanser
Users love the "soft and creamy texture" of this cleanser as "it leaves the skin feeling fresh, clean and so soft," and its "divine" coconut smell "really takes you to the beach". This cleanser enamors even the male demographic as one guy writes, "This product cleanses my 24-year-old male skin exactly as it needs. It feels like it tingles on my skin, which leads me to believe it's working."
7. Expert-Recommended: Obagi Nu-Derm Gentle Cleanser
This soap-free cleanser, infused with sage extracts to cleanse and pacify irritations, comes recommended "to anyone who routinely has dry skin" by users who are amazed by its deep pore-cleansing formula that packs a punch without irritating the skin. "It is gentle enough for aging skin, yet strong enough to remove make-up and impurities," writes one reviewer.
8. For Post-Procedure Skin: SkinCeuticals Gentle Cleanser
Users love this creamy cleanser because it's soothing enough to be used on freshly treated skin. "Before and after I get a treatment done, I always switch to this cleanser," shares one. "It doesn't strip my face or dry it out!" This dermatologist-recommended cleanser is infused with skin conditioners and emollients to provide skin gentle hydration. It features orange oil that acts as antiseptic to help reduce irritations.
9. Thoroughly Removes Makeup: One Love Organics Vitamin B Enzyme Cleansing Oil + Makeup Remover
"This is a kind of cleansing oil that is love at first application," says one user. "It exfoliates without being harsh, it softens without being oily," claims another. This multitasking product contains papaya oil that makes it "heavenly on dry skin" because of its soothing and exfoliating properties. "It really does a great job of removing makeup without stripping my very dry skin," shares one. The concoction of natural ingredients, which include vitamin B, pumpkin oil and vitamin E, help detoxify, tone and protect the skin form environmental damage.
10. For Dry and Combination Skin: Phytomer Doux Visage Velvet Cleansing Cream
Perfect for dry and combination skin, one reviewer writes, "It's nice and creamy for dry areas, but keeps my skin clean enough to prevent breakouts."
Users love its luxurious scent, and one user testifies that "every night I think I have slipped away to a wonderful spa". Formulated with Sorenia—Phytomer's soothing, aromatic seawater—this cleansing cream's unique marine beauty therapy relaxes skin while ensuring that it's properly hydrated. One user claims seeing "an immediate benefit to my skin. It looked clear, bright and moist."
11. Cold Cream Cleanser That Refreshes and Calms: June Jacobs Intensive Age Defying Hydrating Cleanser
Users immediately feel the rich hydration of this cold cream, as one says, "My skin feels so soft after washing." With nourishing shea butter and meadow seed oil, it cleanses without drying skin, while the combination of colloidal oat and rice bran extracts gently exfoliates and preps skin for the next steps of your regimen.
Read Original Article