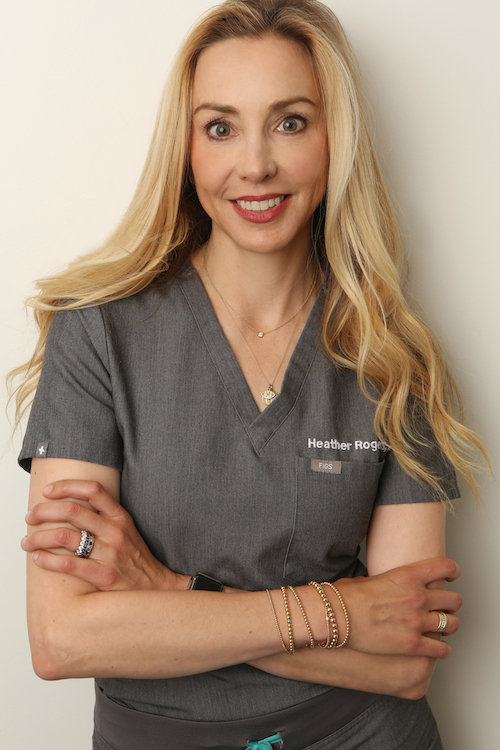 Heather D. Rogers is a board certified dermatologist and fellowship trained dermatologic surgeon. A Washington native, Dr. Rogers attended Stanford University and returned to Seattle for medical school. Dr. Rogers completed her dermatology residency at Columbia University Medical Center in New York, NY where she served as chief resident and started the first dermatology clinic for organ transplant patients in the state of New York. She also received a prestigious travel grant from the Women's Dermatologic Society allowing her to spend six weeks in Australia studying skin cancer and its treatments including photodynamic therapy. She then completed two procedural dermatology fellowships with extensive training in Mohs micrographic surgery, surgical reconstruction, laser procedures and aesthetics. Dr. Rogers worked as faculty at Columbia until moving back to Seattle in 2009. She lectures internationally, has published numerous articles and book chapters and is an active member of the American Academy of Dermatology media expert team. In 2017 she was named Top Doc by Castle Connolly nationally and Seattle Met Magazine locally.
Within dermatology, she has a particular interest in the treatment and prevention of skin cancer and scars. She loves making beautiful, hidden scars, combating the consequences of too much sun and creating the perfect anti-aging treatment regimen for each of her patients (it will always include sunscreen!). Dr. Rogers is a national expert in photodynamic therapy (PDT), coauthoring the 2015 treatment guidelines for the Journal of American Academy of Dermatology. She also created RESTORE, a petroleum-free and allergen-free balm in response to both her patients' requests for a petroleum-free ointment to use after skin procedures, and Dr. Rogers' frustration with the unnecessary allergens found in the products currently available.
When not reminding her patients to protect their skin, Dr. Rogers enjoys spending time with her husband and their two children out on the water or in their kitchen.
Fellowships
American College of Mohs Surgery: Columbia University Medical, Center for Laser and Dermatologic Surgery, Yehuda D. Eliezri, MD and Edward Desciak, MD, New York, NY and Pomona, NY, 2008-2009
Procedural Dermatology: New York University, Laser and Skin Surgery Center of New York, Elizabeth Hale, MD, New York, NY, 2008-2009
Residency
Dermatology, Columbia University Medical Center, New York, NY. 2005-2008
Chief Resident, 2008
Skin Care in Organ Transplant Patients Europe Resident Award, 2007
ASDS Resident Award, 2008
Women's Dermatologic Society Mentorship Award, 2008
Founded the Organ Transplant Dermatology Practice at Columbia University Medical Center Department of Dermatology, New York, NY
Internship
Medicine, New York-Presbyterian Hospital: Cornell Campus, New York, NY, 2004-2005
Medical School
University of Washington School of Medicine, 2004
Alpha Omega Alpha
Excellence in Medicine Award
Graduated with honors
Undergraduate
Stanford University, 1998
Human Biology, BA
Varsity sailor, All-American
Professional Activities and Experience
University of Washington, Clinical Assistant Professor
Madison Skin and Laser Center 2009-2015
American Academy of Dermatology (AAD), Fellow
American Society for Dermatologic Surgery (ASDS), Fellow
American College of Mohs Surgery (ACMS), Fellow
American Society for Laser Medicine and Surgery, Fellow
Reviewer of manuscripts for Dermatologic Surgery, 2008-present
Skin Care in Organ Transplant Patients Europe
International Transplant Skin Cancer Collaborative
Women's Dermatologic Society
The Skin Cancer Foundation
Seattle Dermatology
Washington Dermatology Society
Alpha Omega Alpha Medical Honor Society, 2003-present